Margaret Atwood's early works of fiction, drama and verse, with her colourful illustrations, are published here for the first time. They reflect her formative years in the woods of northern Ontario and Quebec, her engagement with animals, and the wideranging imagination and humour that also inform her novels.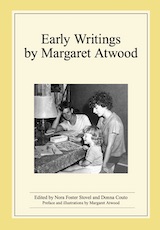 Edited by Nora Foster Stovel and Donna Couto.
Preface and Illustrations by Margaret Atwood.
Price: $15 (AUD)
With scholarly annotation, a note on the text, and a critical introduction, this edition also includes photographs from the author and a newly discovered early short story.

Order direct from their website:
Click on "Order a Book" and select "For international purchases".